Nigerian art..
Nigerian artist 2 Face wins artist of the year during MTV Africa Music Awards
POSTED 12th/December/2010
views:731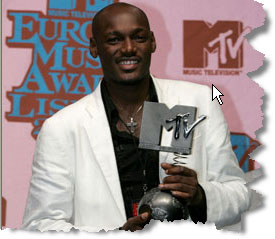 LAGOS, Nigeria
As one artist rushed the stage wrapped in Nigeria's green-and-white flag, Africa's most populous nation ran away with the awards Saturday night during the MTV Africa Music Awards.
Nigerian singer 2 Face, known for his catchy, fast-paced pop song "Implication," claimed both the artist of the year and best male performer awards during the ceremony held in Nigeria's commercial capital of Lagos. He also dominated during a live performance, throwing himself into the crowd and running away from two scantily clad dancers dressed as police officers.
"One love to Nigeria," the artist said as he held the golden MTV award, to the applause of the audience. His singing often includes words in the Yoruba language, heard throughout southwestern Nigeria.
National pride ran high as rapper Banky W took to the stage carrying the country's green-and-white flag, later tossing it over his shoulder during his performance. The country's musicians fared well during the ceremony Nigerian act P Square won for Best Group, Nigerian singer Sasha won as best female performer and Nigerian rapper Mo Cheddah won for best new artist.
Among other winners were Fally Ipupa, a singer from the Democratic Republic of the Congo who received the best video award for his song "Sexy Dance." U.S. rapper Eminem won best international artist, but did not attend the event.
Africa has long featured a vibrant music scene, but artists have had difficulties breaking into overseas markets. Famous African artists include Senegal's Youssou N'dour, Nigerian Afrobeat legend Fela Kuti and South African impresario Miriam Makeba, who died in November 2008.
Both Makeba and Kuti's names were mentioned during the ceremony, as MTV gave an award in the South African singer's memory. Rapper Chuck D of Public Enemy recognized the tradition of music being used as a weapon against injustice, drawing a cheer when mentioning Kuti. He earlier led others in a rendition of "Fight the Power," the song ending with the artists raising closed fists into the air.
"You have everything you need right here," Chuck D said. "Recognize your legends; recognize your history."
Yet as Nigeria approaches a critical presidential election next year and corruption still pervades life, no one mentioned it in the air-conditioned comfort of the hotel ballroom where the ceremony took place.
MTV's regional music channel MTV Base reaches 48.5 million viewers across sub-Saharan Africa via satellite and local television stations.
What is Veepiz?

What is Veepiz?

Our Goal

Our goal is to ultimately unify Africans across the globe by giving them a pan African channel of communication, a basic prerequisite of development.

Thousands of African people use Veepiz everyday to keep up with friends, upload an unlimited number of photos, share links, university research material and videos, and learn more about the people they meet.
Meet old and new friends on Veepiz. Share and experience African culture on Veepiz.

Why Veepiz?

University Tool

Share, upload and download your university notes, assignmenrts, term papers and examinations

Read More

Share More

Share documents, photos,links and videos in real time using chat or walls. Limitless sharing...

Shop Central

With a specific market and returning users, Shop Central provides both buyers and sellers a haven online.

Read More

Entertainment

The Afrostar appication showcases, ranks and keeps you updated on your favorite African Stars.

Read More

Mobile Ready

Are you always on the go? Stay in touch with Veepiz Mobile.

Read More

Build Network Fast!

Using Our Hybrid Invite System you can grow your network quickly, There is no limit to your friends or followers

Get Started

Get Started

The story of Africa is well told and propagated by Africans. Join the conversation and experience Africa the way it should be. Registration on Veepiz is quick, free and painless.

Latest Star News - Tuface - 2face
Nigerian art..